Themed dinner menus
Holiday fish-based menu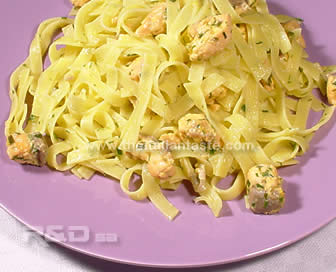 Christmas/New Year's Eve menu idea
Italian Holiday Season fish-based menu with aperitivo, antipasto, 2 pasta courses, poached trout accompanied by seasonal green salad, orange jelly, dried fruit and Italian Xmas cakes.
Tips
- In Italy many people use to prepare a fish-based menu at Christmas Eve and New Year's Eve.
Fish must be well cooked and of good quality.
It's a real Italian tradition in many regions from Piedmont to Sicily.
- This menu consists on tasty dishes made with traditional seafood at Christmastime: salmon, king prawns, stone bass and trouts. Yes ... freshwater fish too!
- There are not a lot of courses. In fact, we Italians had the habit to serve a lot of different dishes many years ago; nowadays we prefer to choose few courses but of good quality!
- The peculiarity of this menu is the presence of two pasta dishes. In you think fish lasagna is too rich in ingredients, you can replace it with rice timbale with stone bass balls
- Remember that after a fish-only menu you can't serve a cake rich in custard and cream. Prefer a fruit tart or a fresh fruit jelly. Match sweet sparkling wine to your dessert.