Themed dinner menus
Fast Italian Easter menu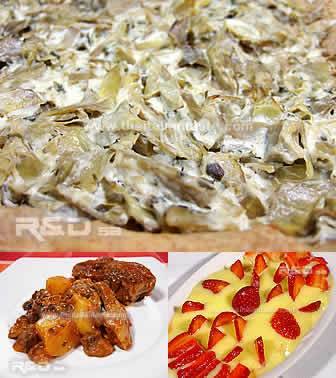 A combination of simple and fast courses for your Easter menu, Italian-style
Italian Easter menu with antipasto, chitarra spaghetti with bacon, lamb & potatoes, strawberries and custard.
Tips
- Fast Italian Easter menu: its combination of courses is very tasty and you can realize it easily.
- It's a typical Italian lunch for Easter with starter, first course (spaghetti), second course (lamb) and, finally, dessert.
In fact in Italy we have the habit of eating eggs, a good dish with pasta, lamb and a tasty dessert for Easter.
- You can also prepare some of these dishes in advance, such as the savory pie with artichokes and ricotta cheese.
If you prepare it the day before, your pie will be tastier. You can serve it cold or warmed up the day after. Accompany it with the cold cuts you prefer: raw ham, cotto ham, smoked ham, salami ...
- You need 60 to 90 minutes for preparing all these dishes; it depends on your ability and if you have anyone who helps you.
- Pasta recipe (egg spaghetti alla chitarra with speck) is very quick.
When lamb is cooking, you can prepare your dessert.
- Doses of every recipe are modifiable easily.
- Paired wine is Casteller, a red wine from Trentino - Italy.
You can serve Freisa d'Asti (a dessert wine) with strawberry dessert.