Themed dinner menus
Italian colored Easter menu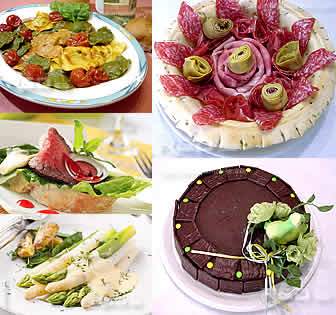 A combination of colored, tasty dishes for your Easter menu, Italian-style
Italian Easter menu with antipasto, ravioli, Italy-style roast beef, Sacher torte.
Tips
- This is a colored menu, ideal for Easter and every special occasion in spring.
- It's a typical Italian menu with starter, first course, second course accompanied by side dish and dessert.
- It's full of tasty dishes but it's difficult, for an expert cook.
- You need some hours for preparing it but you can prepare some dishes in advance, the day before, such as ravioli and Sacher torte.
So in the morning you can only cook ravioli sauce, bread crust for starter, roast beef, asparagus and Hollandaise sauce.
Planning your time well, you can stay at table with your guests for a long time.
- You can easily modify doses of every recipe according to the number of your guests.
- Pair a red wine to this Easter meal such as the red one from Piedmont I suggested above and a dessert red wine to Sacher torte. It's difficult to pair a wine to chocolate but the dessert wine in the wine list is perfect. It's an Umbrian wine.