Themed dinner menus
Italian delicious menu with tagliatelle and rabbit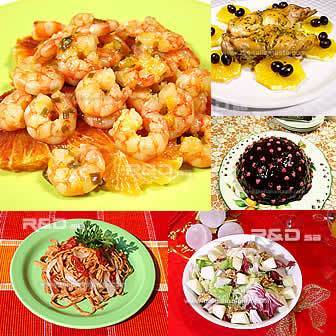 Italian delicious menu with aperitivo, tagliatelle, orange rabbit and a cake
Tips
- I find this menu especially suited to Christmastime when a lot of dinner parties are planned. Kumquats that are the basis of our cocktails are available at this time. I'm sure this cocktail will delight your guests. Those who tasted it were enthusiastic. But Bitter & orange juice will go equally well if you can not find this kind of fruit. Even smoked sturgeon is a more readily available product in supermarkets in Holiday Season in Italy. And where you live?
- Look at our finger food ideas and choose what you prefer among our tips or your favorite recipes.
- If some guests don't like fish, you can prepare another first course: tagliatelle with artichokes and ricotta cheese. Link below.
- If the cake is too difficult, look at our dessert directory for other examples. Link below.
- Cocktail Kalipso is based on Prosecco and so you could serve a good Italian prosecco or Prosecco di Conegliano Valdobbiadene Cartizze.
Useful links for this recipe
Loretta