Who does not like crustaceans? all or almost all love them. From here to know how to cook, serve and eat on formal occasions ... I'm smiling. Why? Read more below ... Anyway the first tip I want to share with you is to cook them as little as possible, just few seconds or minutes! In any case, read individual recipes!
Crustacean recipes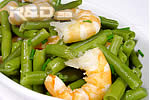 It's a tasty dish to serve warm or cold according to the season. I use to marinate prawns to use less olive oil.
Mantis shrimp (Squilla mantis) stew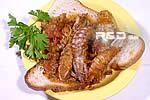 This is the traditional recipe made along Adriatic sea. I learnt it from my paternal grandmother who lived in Pescara (Abruzzo). Easy-to-do recipe for your family menu not for formal occasions. Go to the page to know the reason why ...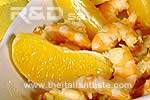 Do you know how much fantastic prawns are if combined with fruit? I like prawns and oranges very much. This is a recipe my guests are very fond of!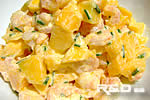 It's a cold dish, ideal for summer get-togethers and formal occasions too. This exotic recipe tastes fantastic. I have never been able to have some leftovers ... my guests always eat everything, lick the plate, I dare say ;))
Raw prawns dressed with olive oil and lemon juice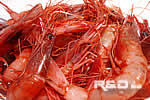 Prawns can be eaten raw only if you have the guarantee that they are fresh and come from unpolluted waters. A rarity nowadays but in some Italian seaside you still can do. Don't forget to check the index of sea pollution in the place where you are and if you have any doubt blanch them at least for a moment before seasoning.