Santa Claus tree
Christmas tree decorated with Santa's images, red bows and pom poms
This is a Christmas decoration for children, to do with them. Read how to decorate the classic pine dedicated to Santa Claus and how to give a new life to a synthetic pine tree, almost old and skeleton.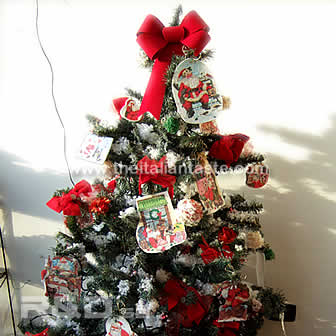 You will need
- a synthetic pine tree
- spray snow
- cotton snowflake
- Santa Claus images doing different things
- white foam rubber sheets
- decoupage glue
- 3D pens in different colors
- a buffer pad
- little brush
- ribbon to hang Santa images
- scissors
- big red bow
- white LED Christmas lights
- red LED Christmas lights
How give a new life to an old synthetic pine tree
- I begin first of all from here. Why throw away an old tree? Before discarding things you should think about it.
I state that, after the treatment, I decided to place it on the terrace in the fear that it might lose its artificial snow on the floor. This occurred for the truth, but much less than I had thought.
- Mount your tree opening all its branches.
- Arrange some sheets of an old newspaper all around its base.
- Spray plenty of artificial snow everywhere.
- Let it dry.
- You get a frost effect that is not bad.
- The other problem of these old pines is that they were not as thick as the modern ones. Then you have to hang ornaments as much as possible and fill every space.
I solved this problem by using pom poms that I had done for another Xmas tree and red bows, used and reused several times. When things are beautiful they have a long life, keep that in mind! ;))
And then I filled the empty spaces with cotton snowflakes.
How to decor a Christmas tree dedicated to Santa Claus
- Arrange the LED lights trying to alternate them as you can see in our video. I chose red and white lights because they remember the dominant colors of the tree but, of course, you can use multi-colored lights
- Prepare Santa Claus images.
Cut them out without the worry of following well their contours. You have to glue them on foam rubber and as you can see in the pictures.
After cutting them out, moisten their back with a sponge, soaked in water and squeezed.
Apply them on foam rubber and brush with decoupage glue.
Let all dry well.
Cut them out from foam rubber.
Then you can define some detail with 3D pens. Color on color.
Make a small hole at the top where you will pass the chosen ribbon.
Your images are ready!
- Hang Santa images, pom poms, red bows and complete any spaces with cotton snowflakes.
- Place the big red bow on the top.
- Your Christmas tree is ready!
Rate this!
Rating: 5 / vote cast: 1