Authentic Italian Cooking
Italian Xmas recipes: rice dishes
Rice as first course at Christmas or New Year's Eve dinner party? In the house of my maternal grandparents, there was no problem. It was Christmas only if there was risotto with mushrooms and chicken livers that is the traditional dish of that area (between Piedmont and Lombardy - Italy). When my grandmother went to the kitchen to make risotto, we grandchildren were almost happy. A small break after all the traditional starters was not bad and then there were all the gifts waiting for us. Other times. Now, what are the habits? in the north a rice dish is always welcome! Read more ...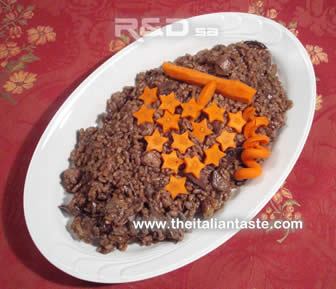 ... the only problem is to choose a tasty recipe and plan all at best.
Of course rice pie solves many problems because everything can be prepared in advance and then you have only to turn on the oven at the last minute. However, the rice should not betray you: it must be of good quality and not overcook.
On this page, you will find many Italian recipes with rice combined with fish, meat or even just vegetarian versions. Something for everyone!
I suggest you look at them calmly and make at least a test before Holiday season!
Our rice dishes for Holiday season