Authentic Italian Cooking
Italian Xmas recipes: side dishes
A side dish always accompanies the main course in every menu. I'm going to show you some recipes that I have the habit to choose when I plan my get-togethers or formal parties at Christmastime. I try not to be tempted by too elaborate recipes. The menus in this period are already more elaborate on their own than usual and so it is necessary to match the side dish with intelligence.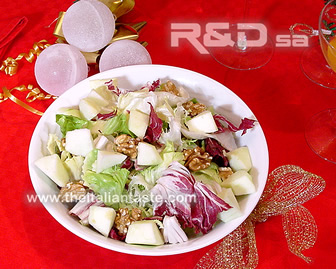 How to choose a side dish in Christmas menus
As I have just written before, you have to be very careful in choosing the side dish to pair to your meat and/or fish recipes. I prefer fresh or raw vegetables to be seasoned with flavored oil.
This is the reason why I usually prepare tantalizing salads even with the addition of fruit. Do not be afraid to be seen with a little imagination. In fact, such a choice is an act of attention for your guests and relatives. Gone are the days of gargantuan meals!
Few fried food, I recommend you. I suggest only artichoke quarters, dipped in batter and then fried, not in industrial quantities ;))
Potatoes are fine in other moments of the year, unless you add some of them to your baked turkey. No need to read any recipe, right? ;))
If you really want something different from the usual, choose my mini flans but combine them with not too elaborate meat or fish dishes.
Side dish recipes for Christmas, New Year and all your parties.