Authentic Italian Cooking
Italian Easter recipes
Every Italian region has its traditions for Easter menu. Besides we Italians have the habit to plan the traditional day out on Easter Monday, weather permitting, but focusing on completely different recipes. Despite the differences I find that there are points of contact especially about ingredients. Think of eggs, for example. There are people who use them to decorate cakes or savory pies, others that make omelettes but first of all we Italians like them hard-boiled, shelled, garnished with mayonnaise to accompany assorted salami and cheese. There are many other examples to do ;)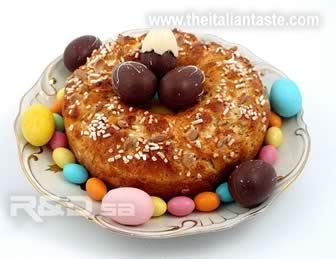 Italian Easter lunch
It is always important for us Italians who love to celebrate at home with relative or friends.
Generally we prepare a full menu from appetizers to dessert according to local or family tradition.
We usually start our meal combining hard-boiled eggs with assorted cheeses or a cheese cake, cured meats and seasonal vegetables.
The first course has pasta as protagonist, stuffed or baked, but seasoned with delicious meat or vegetable sauces.
Our second course is based on meat. Lamb is chosen especially in the southern regions but Italian families have their own preferences and so there are a lot of Easter recipes with every kind of meat. Fish is cooked in the previous days for example on Good Friday.
Dessert closes every Italian menu. Apart from the classic Colomba and chocolate egg, Italian tradition has a lot of cakes, stuffed with ricotta cheese combined with other ingredients, or leavened cakes with sourdough ... all mouth-watering!
Italian recipes to plan an Easter menu