Themed dinner menus
Italian menu for
Confirmation in spring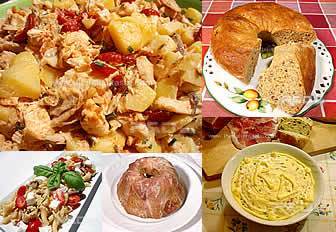 Italian spring Menu for confirmation party with aperitivo, starter, pasta salad, baked rice, roasted chicken salad, mille-feuille cake
Tips
- I always start from a premise when I have to plan a meal to celebrate something special with involved children. They need attention and time. For no reason at all both must be subtracted to them. For the same reason their mother and other relatives do not have to disappear into the kitchen. The strong point of this menu is that all dishes can be prepared the day before calmly, even with their help, why not? ;))
- Ask for their help to go shopping too. So they'll be able to choose preferred finger foods for aperitivo that opens my meal and maybe some other ingredient. This will make them feel more involved.
- And now let's examine all courses. You can read all details for recipes on linked web pages.
Aperitivo: it is very classic. Serve orange juice to children and wine paired to this meal to adults. The days when every dish had its own wine are lost in memory. If any adult likes, you can add a spray of Bitter to orange juice.
Antipasto: it is very delicate but think of the age of all your guests! If you want to have the best of the best of Russian salad, you should prepare it with fresh vegetables but you need much more time, for sure. You can use only all purpose flour for your savory ring cake and fresh yeast (10g - 1/3 ounce) without any problem. However, leavening time will be longer. This savory cake will be a fantastic bread to accompany your second course too.
First course: there are two first courses. A very tasty and delicate pasta salad enriched with buffalo mozzarella that you have to add just before serving. Slice and let it drain in the fridge a couple of hours before adding. One of the few things to do that day, apart from slicing salami. Baked rice can be prepared the day before. It has always helped me to do well especially when I had several guests. Prepare Italian risotto with herbs, let it cool. Line a baking pan with slices of prosciutto or cotto ham and then transfer your risotto. Level its surface, and keep in the refrigerator until next day. Ready to bake!
Second course: it's a very simple-to-do chicken salad because it is made with grilled chicken we buy at rotisserie, ready to eat. In this case ready to be boned to prepare this dish!
Cake: thi is an important event so I'd order the cake from the pastry chef, unless you're passionate about cake design. The mille-feuille cake is the most popular choice for this occasion because clear, delicate and very tasty. You can cut it easily and portion effortlessly. If you want, you can serve a strawberry salad as they are in season before the cake.
- Wines. I suggest Prosecco from Conegliano Valdobbiadene but you can choose the Italian bubbles you prefer. Remember to pair sweet sparkling wine to your dessert.
- Reading my recipe directions, you can see servings are different but it's easy to understand how to modify them. In any case do not worry! Every dish tastes fantastic the day after too!
Loretta