Pork recipes, listed according their ingredients or cooking method
I use very little olive oil in my recipe compared to the traditional way of cooking it. The reason is the beer!
Cassoeula versus rustida. Lombardy against Piedmont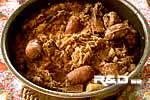 The pork cooked with cabbage is a very good combination that is prepared outside Italy too. Here I show you two recipes from the north. Both are winter recipes that use cheaper cuts of meat, but thought in a different way and with opposite nutrtitive values.

This is an unusual dish in which meat is flavored with pineapple. Loved by people who like pairing meat and fruit. It is a recipe of mine, tested several times and well accepted by all my guests ;))