Themed dinner menus
Romantic menu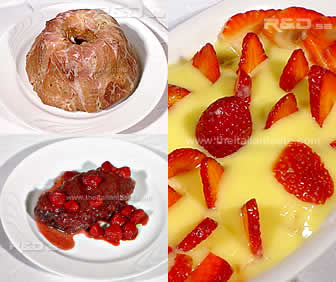 Recipes for romantic menu
with olives and various appetizers
Wine
Grignolino del Monferrato Casalese
Dessert wine
This menu is easy to do and the best thing is that you can prepare it in advance. So you may enjoy the evening with your partner.
All recipes are tasty and beautiful to see: the success should be assured!
I usually do not use ingredients that somebody could not like such as garlic. Garlic is not very appropriate in an amorous meeting unless you know your lover tastes very well.
The doses of every recipe can be varied easily; but if you have any problem, email me, please!
You could accompany this meal with a good wine such as: Grignolino del Monferrato Casalese (a red wine from Piedmont - Italy) or an Italian Prosecco. At the end you could serve a dessert wine.
You can make these recipes all year round replacing fresh ingredients with frozen version, dessert excluded. In fact strawberry-and-custard dessert is very good only if you use fresh strawberries that are in season only in late spring and summer. So you could substitute it with other dessert ideas that you can find easily in our directory dedicated to sweets.