Themed dinner menus
Homemade Italian white menu for ceremonies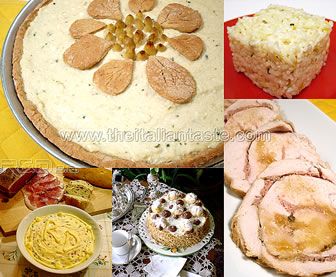 Ceremony menu plan, Italy-style
Homemade Italian white Menu for ceremony party with starter, risotto, rolled roast turkey breast with unusual side dishes, Saint Honoré
I remember you a full Italian-style menu has these following courses: starter, first course (pasta or rice dish), second course (fish or meat accompanied by a side-dish), cheese (only for lunch) and finally dessert and fruit.
Here's a menu in white color you can prepare for a great occasion such as Baptism or Holy Communion, if you want to celebrate at home!
Tips
- Starter. I suggest to begin with my fantastic savory tart filled with ricotta, white asparagus and potatoes. Accompany it, sliced, with smoked swordfish seasoned with lemon, olive oil and salt. In Italy we also use to garnish it with sliced strawberries seasoned with some drops of balsamic vinegar when in season. It tastes fantastic!
- First course. Risotto cooked with sparkling wine is perfect for you. It's a delicate rice dish and it's white!
- Second course. Rolled roast turkey breast filled with frankfurter and mushrooms in oil has tender meat and it's ideal for kids and adults that love it very much!
In the page where I explain how to make this turkey recipe, I also suggest what kind of side-dish you can combine with it. Here I add mashed potatoes (but potatoes are in the savory pie too) and Russian salad. Remember only to garnish your Russian salad with pale mayonnaise.
- If you are planning a lunch party, you can also serve assorted cheeses (both fresh and seasoned). In Italy in the last years we are used to accompany them with honey and fruit mustard. You can find an example of fruit mustard on this page.
If you are planning a dinner party remember serving cheese is not suggested.
- Dessert. Finally, as it happens in every party, it's the time of a fantastic cake! Look at this page. You can find a lot of easy-to-do or more elaborate recipes but Saint Honoré cake decorated with white chocolate for this occasion is the best solution.
Menu plan
- The day before.

- Cook asparagus and blend. Chill blended asparagus in your fridge until the next day.
– Prepare and cook rolled roast turkey roll. Let it whole in the pan.
– Prepare your side-dish if possible. If your choice is Russian salad, remember to drain its vegetables very well, otherwise you may have any water on the bottom of the bowl the day after.
– Prepare your cake. If your choice is a cake garnished with cream, you should fill only the base and chill it.

- The ceremony day.
Before going to church

– Prepare your pie filling. It's a quick step. In this case you should buy a ready-to-cook shell for a quicker recipe. Cook your savory pie. You can serve it warm or cold. In the first case you have to warm it up just before serving.
– Prepare also swordfish. Put its slices on every individual plates or ina serving plate. Eventually, season them. Cover with cling film and chill. Wash and slice strawberries if you want to garnish swordfish slices as I have just suggested. Chill them, covered with cling film.
– Prepare all ingredients for risotto, chicken stock included. So you'll be able to prepare it just before your guests begin to sit around the table.
– Cut rolled turkey into slices and put them again in the pan.
– If you have time and space in the fridge, you can also prepare the serving plates with cheese. Cover with cling film.
– Complete your cake and put again in the fridge.

- Back home

– Begin cooking risotto.
– Put the serving plates with starters on the table.
– Warm up rolled turkey slices in the pan as soon as your guests finish eating the first course.
Serve them topped with gravy.
Loretta