Themed dinner menus
Menu full of wood flavors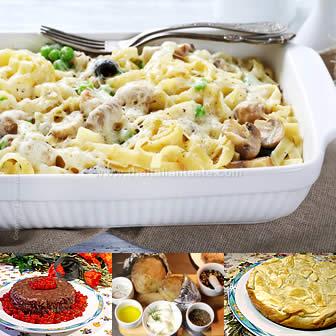 Italian Christmas lunch menu with starter, mushroom and pea tagliatelle, pheasant, jacket potatoes, fresh and dried fruit, apple pie and other traditional Italian cakes.
Tips
- This menu is ideal for everyone who wants to astonish his guests with refined dishes in the Italian style.
It is full of wood flavors and does not require too much time.
Besides, it can be prepared in winter in other occasions. A birthday dinner party, for example.
- Starter is made with assorted ham from boar and deer. You could buy them online. There are a lot of online shops for Italian delicacies.
Here are some examples.
ufoody.com for our English readers
igourmet.com, well known all over the world
- Tagliatelle are very easy and quick to do. You could make pasta sauce in advance and then cook pasta when your guests are enjoying canapes. Another tip is to cook and season pasta with its mushroom and pea sauce, add some tablespoons of grated mozzarella or béchamel sauce and bake only few minutes before serving, the time necessary to melt cheese.
- Pheasant must be cooked ahead and reheated before serving. Remember that there is its cold version too.
Potatoes must be baked a few minutes before sitting down at the table and then served while still hot on a little plate next to the individual plate with the foil slightly open so that guests can peel and season them as they wish.
- The final refined touch is serving assorted seasoned cheeses accompanied by honey. Remember that cheese must be served only at lunch.
- Close your menu with apple pie and, at least, an Italian Christmas cake.
- Match bubbles to all the courses. It's the best choice.
On the contrary, a sipping wine is perfect with the cakes.