Themed dinner menus
Italian Christmas easy cheap menu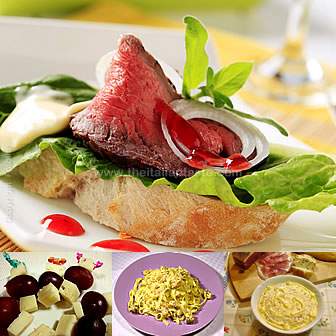 Italian Holiday Season menu with starter, salmon tagliatelle, roast beef, Russian salad, fresh and dried fruit and Italian Christmas cakes.
Tips
- Starter. How to make canapes topped with lard.
Cut a sandwich loaf into slices and every slice into 2 or 4 triangles.
Arrange thin slices of Italian lardo or smoked bacon on the surface, sprinkle with pepper and bake, few minutes. You could accompany them with raw ham (Parma ham).
Prepare some skewers alternating fresh grapes and cheese according to my directions in the recipe.
- First course. I suggest tagliatelle topped with fresh salmon sauce but you could replace this ingredient with mushrooms.
- Second course. Roast beef is a very simple to do recipe and it is always successful. Besides it is important to calibrate well the succession of dishes not to make the menu too heavy to digest. Accompany it with Russian salad (very refined choice) or a green seasonal salad.
- Dessert. Complete this menu with Italian panettone or pandoro. You can find them easily in a gourmet shop but you can also buy them online or prepare at home following my directions. Consult the dessert index.
- Matched wines. Since this menu includes both meat and fish and all dishes are delicate, I suggest to pair the bubbles of a dry sparkling wine but remember to serve a sweet parkling wine with pandoro or panettone.