Themed dinner menus
Italian fish-only menu for all seasons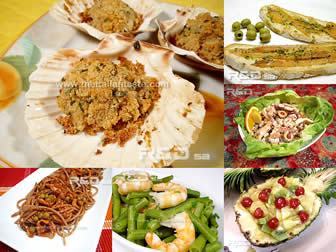 Italian fish-only menu with aperitivo, starter, seafood spaghetti, seafood main dish and dessert
Tips
- I begin from finger food. If you make them small enough, you can serve them to your guests while still standing with a glass of chilled white wine. The same you'll serve during your meal. Remember that the most recent trends suggest not to mix too many qualities of alcohol. Besides a few dishes but good and simple. So everyone can taste better all dishes and enjoy the company that should be the main reason why we meet, right?
- If all these courses seem excessive, you can always skip the starter but I suggest you to prepare everything, possibly in small quantities ;))
- You can find green beans, peas and shrimps both fresh or frozen. That's why I recommend this menu for the whole year.
- All doses for this second course are to be calculated accurately. And it is obvious since this course is formed by a set of samples. In fact you have to assemble a dish in this way: a couple of tablespoons seafood salad, at least 2 beccafico sardines and 1 scallop.
- Your cake should not be too elaborate and without milk and dairy products because it could create some problems with digestion. This explains the choice of fruit salad in two different versions depending on the season. Besides, if you look carefully the list of courses It should also be clear the necessity to end up in lightness :))
- I made a double choice for wine to be paired. Both are bubbles! Choose your favorite or Italian prosecco!
Loretta