Pasta salad or cold pasta ... however you call it, this is definitely one of the summer favorite dishes for most Italians and, I think, for many people in the world. It solves the problem of lunch or dinner when it's hot but it is a great help for cold dinners, barbecue parties and meals, buffet-style. I have been doing experiments with cold pasta and its ingredients for about 25 years and I've put together many classic or innovative recipes you can adapt to every day menus or your special invitations. All recipes are well tested and largely verified in my kitchen ;))
Let's begin with a set of rules and some tips of mine ...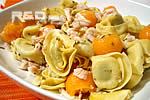 Every day I receive a lot of questions on this topic. So I wrote a guideline with some tips: how to choose, cook and drain pasta, prepare the right sauce and preserve it. All this according to the Italian cuisine!
Making a cold dish of pasta can be very laborious. How to simplify it for your daily family menu? prepare my sauce with tomatoes and grated bell peppers in big quantity. Freeze it in the right portions and enjoy pasta salad every day!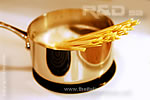 Making a good pasta dish can be a very easy thing but you can complicate all for nothing. Read carefully my post to simplify everything! For example, ask yourself if the size of your pot and the volume of water are enough ;))
Here are a lot of recipe ideas according to their ingredients!