Authentic Italian Cooking
Italian cold vegetarian appetizers
Vegetarian appetizers are often discarded planning a full menu and it is a mistake because among them there are some of the most traditional, best starters. Just think about seasoned olives! Look how inviting are the olives in the photo!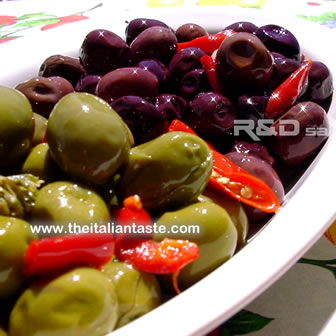 Serving cold vegetarian appetizers
What are the most traditional recipes in Italy? At first I want to remember you vegetables in olive oil: artichokes, hot peppers filled with tuna, sweet and sour peppers, mushrooms ...
Then olives. Green and black olives, seasoned or not, are not to be missed!
Grilled vegetables, caponata, stuffed tomatoes with other vegetables have been served to me in many occasions.
What about panzanella?
And then fruit which ultimately has a place of honor. Just think of orange salad! Not to mention some delicacies like Parmesan cheese ice cream, celery stuffed with blue cheese, herbal tomini, goat cheese accompanied by jam ...
If you have any problem, !
Our tested recipes