Authentic Italian Cooking
Italian Xmas recipes: seafood dishes
Italian tables for Christmas Eve or New Year's Eve are filled with fish dishes according to the local traditions or family habits. Few people can give up salmon, clams, codfish ... or simplier a seafood salad. Fish appears in appetizers, pasta or rice and in main dish. Having roots all over Italy, in my life I have absorbed many customs that can befound in the recipes that I'm going to suggest.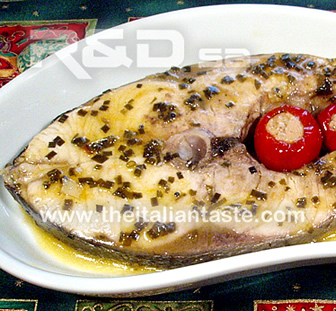 These are the common questions people ask to me if they want to plan a only-fish Christmas menu, Italy-style: what fish do you Italians choose? what fish is better to avoid? does everyone like eel? is it better smoked or natural? what is the best fish for holidays, baked or fried? it is good to combine fish and fruit in cooking? can I serve raw fish?
I always try to propose recipes that meet the taste of all. Not too elaborate dinner parties, especially in the Christmas and New Year's menus already full of heavy ingredients. Besides our Italian traditions make us prepare codfish ... but I recommend you ... just a taste!
Avoid raw fish, as much as possible. Much better!
In any case choose a rich assortment of fish to please everyone unless you are absolutely sure of everyone's tastes.
Also avoid excess of thorns.
Finally, if you prepare shellfish, remember to serve it well not to embarrass your guests: a few shells! In every recipe you'llbe able to find the appropriate tips.
Seafood recipes for Holiday season