Dedicated to ...
Cucina Italiana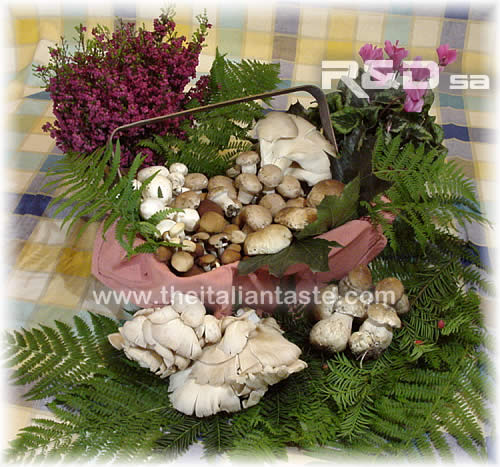 THE MUSHROOMS
Fall is the season of mushrooms. Wild or cultivated mushrooms. They are the main ingredients of a lot of recipes.
Mushrooms flavor pasta, rice, fish, meat. Besides they accompany second courses very well, in other words they are tasty side dishes. In Italy we also use them for the pizza topping, to make the filling of focaccia (flat bread) or on the top of crostini and canapés.
But you must know mushrooms very well to clean, preserve and cook them correctly.
Muschrooms: description, nutritive values, other names, buying, cleaning, preserving and cooking.
Read the pages dedicated to the following mushroom species:
Below you can read a collection of mushroom recipe ideas. Some of them are our original home cooking and others are traditional Italian recipes.
Pasta and rice recipe ideas with fresh, dried or frozen mushrooms and mushrooms in oil.
Meat and fish recipe ideas with fresh or frozen mushrooms
Fillet steaks with mushrooms & potatoes our original home cooking; fillet steak is cooked together with fresh or frozen assorted mushrooms; low fat recipe
Poussin with mushrooms our original home cooking; poussins are cooked in a very simple way together with fresh or frozen assorted mushrooms; low fat recipe
Stockfish with mushrooms traditional recipe of Calabria in which stockfish is cooked together with fresh porcino mushrooms (ceps) or other fresh mushrooms
Side-dish recipe ideas with fresh or frozen mushrooms
Stewed mushrooms the simplest way to taste fresh mushrooms: sauté them in olive oil with garlic and parsley if you want to preserve their aroma completely
Stuffed aubergines authentic Spanish recipe in which aubergines are filled with meat, vegetables, mushrooms and cheese
Other recipe ideas with dried, fresh or frozen mushrooms
Polenta and mushrooms our original home cooking; we show you how we make polenta and fresh wild mushrooms
Mushrooms in oil the traditional recipe to preserve wild mushrooms in oil
Autumnal pie savory pie filled with mushrooms and cabbage, a fall recipe you can also make in winter with frozen mushrooms