Themed dinner menus
Light menu for Christmas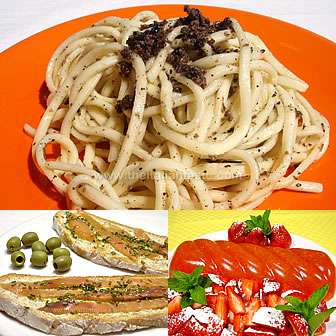 Italian Holiday Season menu with starter, spaghetti with truffles, sturgeon dish, quail dish, fresh and dried fruit and orange jelly.
Tips
- This menu is composed by simple but refined dishes; you can realize it not only for Christmastime but also for your other special gatherings.
In fact you can find all its ingredients in every season.
- You can prepare all dishes in the morning but you have to make orange jelly the day before because it needs cooling time in the refrigerator.
- If you look at the recipes, you can see they are low in fat. In fact you do not use butter but olive oil and can't find mayonnaise or cream among the ingredients.
You'll use a lot of fruit and vegetables.
- If you want, you can cook quails without bacon.
- For recipe directions, click on their title; doses are modifiable according to the number of your guests.
In any case email us, if you need some suggestions.
- Choose the vegetables you prefer for your antipasto: carrots, celery, onions, artichokes, ... .
- Planning everything is very easy. You have to prepare the dessert the day before as I have just written. Grated truffles in oil the day before too.
- In the morning, you have to boil court-bouillon for sturgeon, cook quails, clean and wash green salad and all the vegetables to be served as starter.
You need 90-100 minutes for all these steps.
- You have to prepare toasts (bruschetta) with smoked salmon just before serving. Prepare strangozzi and warm up court-bouillon while your guests are eating antipasto. When your guests are eating pasta, you can boil fish. Sturgeon is to be served hor or warm.
- This menu is only a suggestion; if you want, you can look for other light recipes in our website.