Themed dinner menus
Simple Italian Easter Menu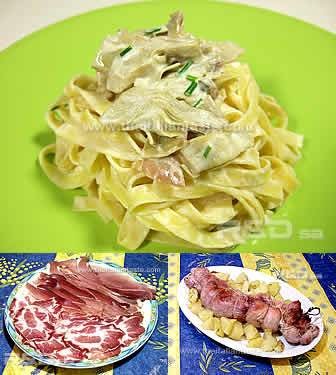 Italian Easter menu with aperitivo, antipasto, tagliatelle, stuffed rabbit
Tips
- Here it is a fast and easy to do Italian menu for Easter.
- You can begin with Rossini cocktail that it is made with straberries. Accompany it with tasty savory cookies garnished with salami and vegetables in oil.
- Your aperitivo may be followed by a classic Italian antipasto: an assorted platter of salami ... delicious!
- The first course is based on typical spring ingredients, that is artichokes and ricotta. No tomato sauce for a great tagliatelle dish!
- In Italy traditional meat for Easter is lamb but I chose rabbit in a very original way: boneless and stuffed. Your guests will like it very much.
- You can finish with your favorite spring cake or an Italian recipe idea and seasonal fruits.
- Some of these dishes can be made in advance, the day before:savory cookies, artichokes for pasta, rabbit.
In this way you'll be able to enjoy the day.
- I remember you a traditional Italian menu is composed by antipasto, first course (pasta or rice dish), a second course (meat or fish) and finally a dessert.
- As you can see, you can download our menu card if liked. It's free!
Useful links