In Italy our traditional full menu begins with antipasto, different from north to south. Antipasto can also be called starter. It may be an assorted platter with a lot of tidbits made with fish, meat, eggs, vegetables, cheese, cereals depending on the circumstances or a smaller portion of a famous dish too.
Our tested recipes to assemble Italian entrees as follows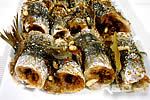 Hot seafood appetizers are really a lot. Shellfish soups (mussels, clams ...), stuffed sardines (sarde a beccafico), grilled scallops, bruschetta topped with fish, grilled specialties including cuttlefish ... the list is really long.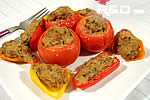 Among hot meat appetizers there are arancini because they have a meat heart, vegetables stuffed with sausage and tigelle or fried gnocco because they are served accompanied with cold cuts. Soon many other recipes.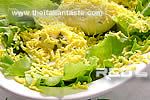 We Italians are masters in garnishing boiled eggs, seasoning olives or fresh fruit, combining bread with tomatoes (panzanella), making ice-creams with vegetables and cheese ...