Capon stuffed with Cointreau-flavored chestnuts

( Cappone ripieno )
Our original home cooking
Stuffed capon is a traditional main course for Christmas Italian menus. Cook books offer many different versions for the filling but I like the combination of capon meat with fruit, chestnuts in particular. This is the second recipe of stuffed capon of this site. The first recipe has already been dedicated to chestnuts and sausage. In this recipe, in addition to sausage, filling is made with pumpkin and special chestnuts, flavored with Cointreau. All links to mentioned recipes below!
difficulty: medium
time: 2 hours 30 minutes
calories: (kCal)
Ingredients / Serves 8
1 2kg (4.4 pounds)

capon with its giblets

1 250ml (8 1/2 fluid ounces - 1cup)

jar Cointreau-flavored chestnuts

450g (1 pound)

turckey and chicken sausage

or pork sausage

100g (3 1/2 ounces)

steamed pumpkin

1

egg

30g (1 ounce)

fresh young onion, finely chopped

1 tablespoon

dried chives

1 tablespoon

dried parsley

1 tablespoon

plain dried breadcrumbs

2 tablespoons

plus 1 teaspoon extra virgin olive oil

Salt
Difficulty:

medium difficulty

Time:

preparation:

30 minutes


cooking:

2 hours


total:

2 hours 30 minutes

How many calories in a serving?

Calories:

n.c. (kcal)

- n.c. (kJ)
Protein:

n.c. (g)


Total fat:

n.c. (g)


Total carbohydrate:

n.c. (g)


Sugars:

n.c. (g)
Download free PDF version (209 download).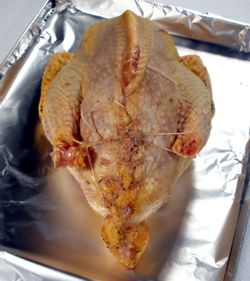 zoom » Capon ready to bake
Stuffed capon recipe
Preparation and cooking
- Prepare the whole capon with its giblets you've bought.
Remove giblets from the capon.
Be careful not to break the gall bladder; if you break it capon meat could have a bitter taste.
Clean and cut its stomach together with liver, heart and kidneys into pieces.
Put onion in a pan together with a tablespoon of olive oil and capon giblets.
Let all fry on a medium heat, 1 minute.
Then pour in a tablespoon of chestnut preserving liquid.
Flavor for other two minutes.
Blaze your capon.
- Prepare filling.
Purée drained giblets together with peeled sausage, pumpkin, egg and aromatic herbs.
Place your mixture in a bowl and add chestnuts (drained and cut into pieces), plain dried breadcrumbs and cooking juice of giblets if advanced.
- Prepare capon for baking.
Preheat oven to 180°C (350°C).
Salt capon inside.
Spoon filling into the capon and truss with kitchen string.
Season to taste with salt.
Put capon in a baking pan with two tablespoons of olive oil and preserving liquid of chestnuts.
- Baking.
Bake, 90 minutes.
Turn over capon sometimes and bast occasionally with its cooking juices.
Then cut capon into pieces and put apart its filling.
Bake again capon pieces and whole filling, half an hour.
Just before serving
- Serve your stuffed capon warm.
Serve every portion with a slice of filling basted wih cooking juice.
Note
Tips
- The first photo shows capon portions accompanied by filling in the center.
The second photo shows you capon after tying it, before baking.
- This is a very special recipe suitable for Christmas dinner or your special events in Holiday season. You have the best result with Cointreau-flavored chestnuts. If you haven't prepared them, buy limoncello-flavured chestnuts or rhum-flavoured chestnuts.
- You can cook capon in advance, the day before or fill capon the day before and cook it the day after.
Menu planning
- Capon filled with chestnuts is a typical Italian Christmas recipe. I created this new stuffing with special chestnuts, flavored with Cointreau liqueur.
Now I suggest you a full meat-only menu for Holiday Season. You can read all links to recipes in the next paragraph
Starter: read our traditional Italian antipasto ideas. You'll be able to find your favorite dish. My tip is to serve not too abundant salami. Thy're too rich in fat. Choose a savory tart or pie, rich in vegetables, and serve it, sliced, accompanied by a particular kind of cold cuts such as wild boar salami or other game salami or good-quality prosciutto crudo (raw ham). To complete your antipasto platter, add little black truffle frittatas, stuffed artichokes, Italian crostini, mini turnip top and prawn flans, seasoned olives and vegetables in oil according to your own taste. Vegetables provide fiber which serves in part to counterbalance the excesses of sugar, abundant in this period.
First course: I suggest Tuscan pappardelle with hare sauce or rice timbale with lentils.
Second course: this capon recipe accompanied by green salad with apples or oranges. You can find their recipes in vegetable section.
Dessert: Italian Christmas cakes or handmade cakes such as cocoa Christmas spiced bread or orange and chocolate tart. Consult our Italian cake and dessert list where you'll be able to find panettone or pandoro recipes too.
Useful links for this recipe
Healthy eating
- It is not possible to calculate precisely the calories of this stuffed capon because I used my chestnuts, flavored with Cointreau in which it is very difficult to verify the nutrient supply in an objective manner. All depends on the size of the chestnuts and the amount of preservative liquid that are different in each jar. And then fairly in respect of you, readers I prefer not to "give casual numbers".
- I give you the nutrition facts instead of all the other ingredients so that you can understand how the capon, being a fatty meat, it is high calorie. The solution would be: cooking without skin and removing more evident fat.
Calories: 649 kcal (2715 kJ)
Protein: 43.6g
Total fat: 50.5g
Total carbohydrates: 2.4g
Sugars: 1.3g
Fiber: 0.4g
Loretta
What's the right wine for " Capon stuffed with Cointreau-flavored chestnuts "?
My husband and I generally pair Grignolino or Dolcetto (red wines from Piedmont - Italy) to this stuffed capon.